Happy you're here!
I'm pleased to introduce you to the free masterclass changing the financial direction of my life.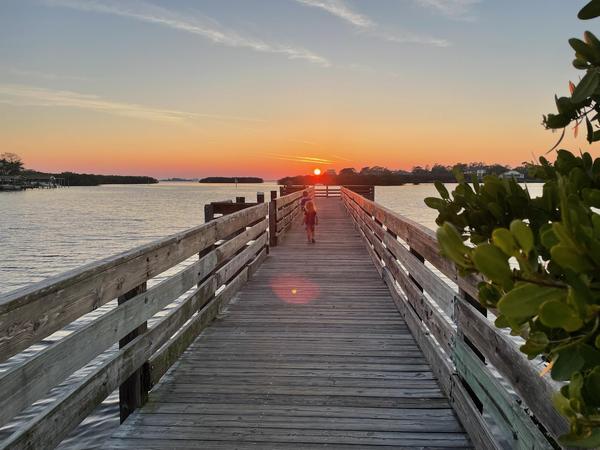 In the middle of my 2am scroll, affiliate marketing found me
I got sucked in. I tried that "$7 course" (which made me feel yucky), listened to podcasts, and read blogs, yet I couldn't find something that met me at my expertise--knowing nothing--and aligned with my values. I didn't want to be "that" pushy person selling a product or lifestyle I didn't think genuinely helped others.
And then I found Time Freedom Formula. It is honest, sincere, and has heart. It clarifies affirmations, focusing on money mindset and energetics. The Launch course is the perfect fit for beginners, offering the complete package (for $97).
With this course, you CAN do it:
EVEN IF you've never done anything online before
EVEN IF you're afraid to be "seen" online
EVEN IF you think you're not "tech savvy" enough
EVEN IF you've tried other things online that haven't worked out
EVEN IF you don't have a large social media following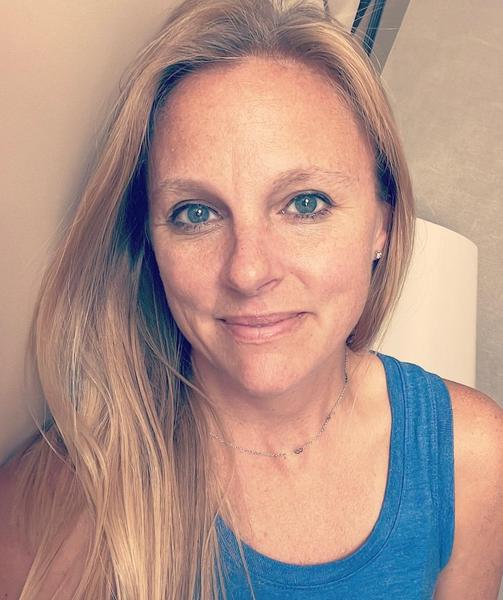 Hi! I'm Krissy
I am a high school English teacher and a proud mom to three young children.
Summer 2022, my family moved from Connecticut to Florida to live a life by the water and endless summer.
However, accepting a teaching position in Florida meant a $40,000 pay cut for me, and an even larger pay cut for my husband.
Now I am not afraid of putting in hard work. I am not looking to leave the classroom, a career I genuinely enjoy.
What I need is to learn the skills on my own schedule and earn passive income.
My end goal is to create a course on college essay skills, so I'm on the online digital journey, following a structured path to a proven successful affiliate course.
When the time comes for me to write and then market my own digital course, I will undoubtedly be ready.
Here's what you'll learn if you try Time Freedom Framework
☸A time freedom framework ~ what you actually need to build to make sales without being present
☸Six mistakes to be aware of (or might even be already making) that can stop you from ever earning a dollar online
☸Three crucial steps you'll need to claim back your time + the digital skills to create an income you truly love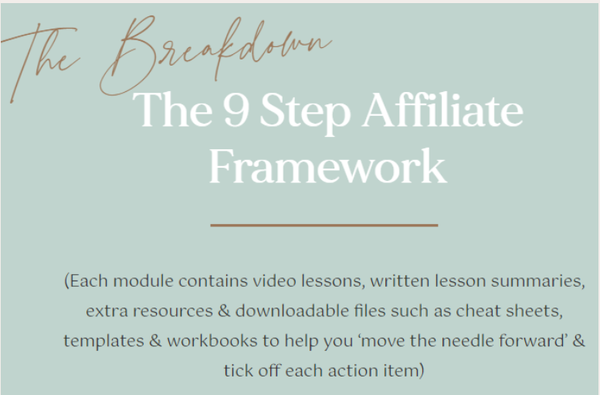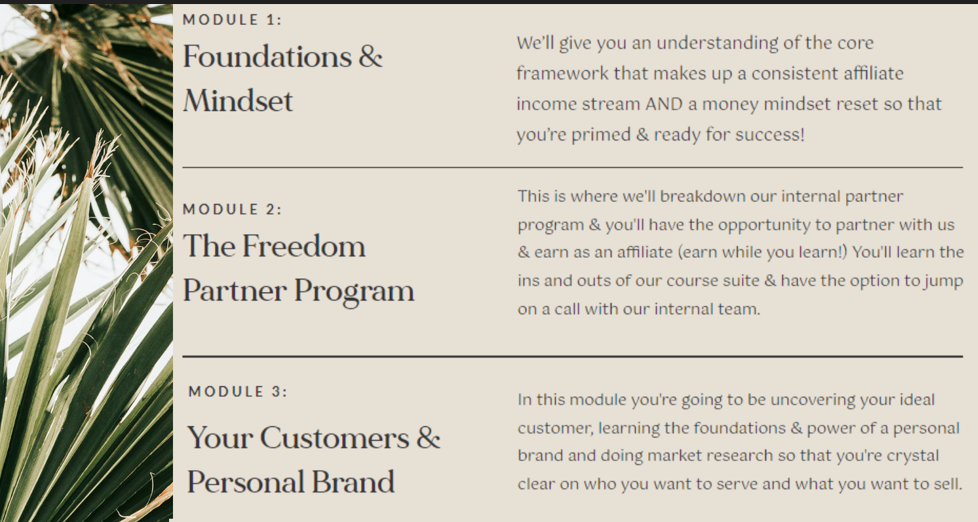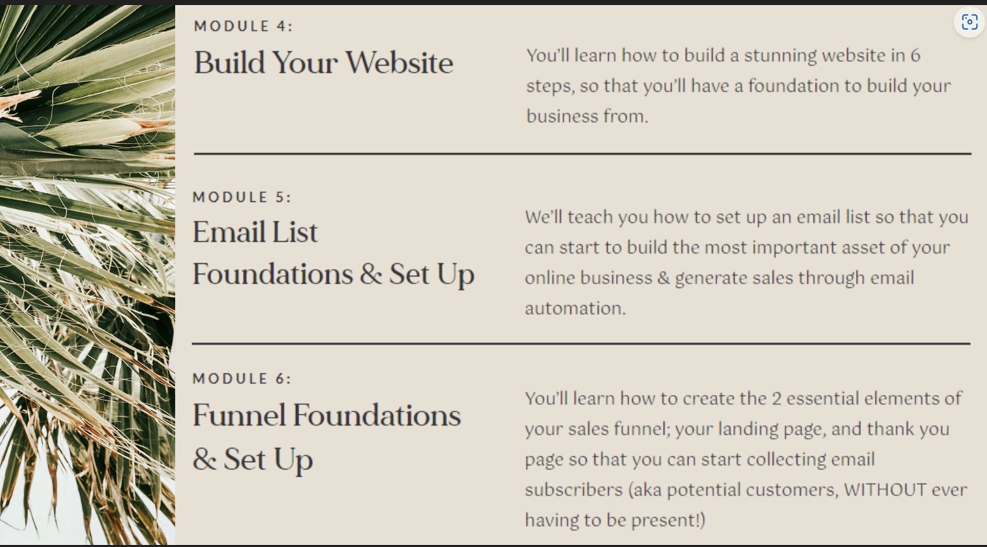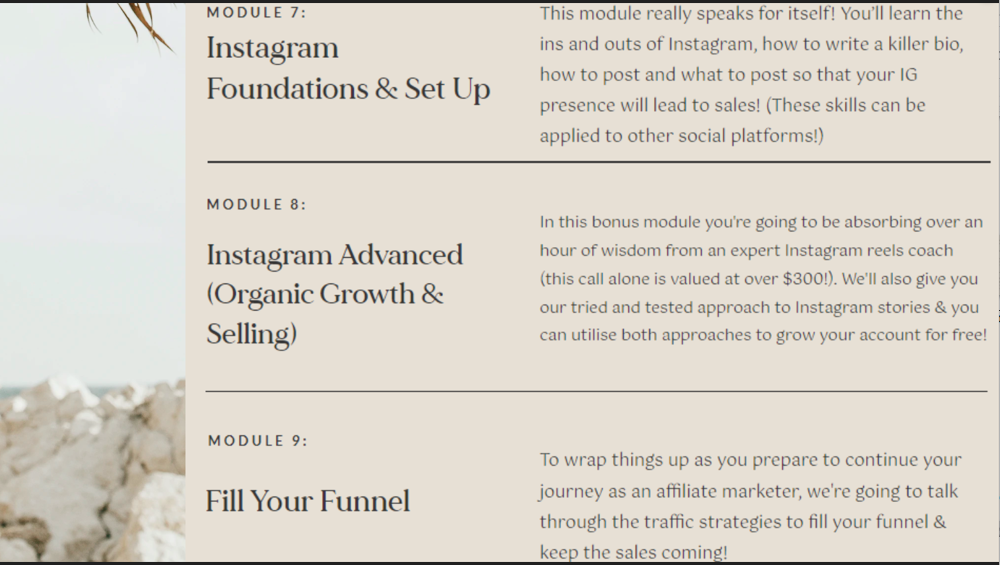 Explore your future with the FREE Masterclass, packed with money mindset and energetics.


FINALLY, INSIDER INFO ABOUT "THE 9 STEP AFFILIATE FRAMEWORK" COURSE:
Cost is $97 for the Launch Course

Course work of approximately 30 hours--prepare to take notes, have your mind spin, and feel excited and supported.

Lessons apply to anyone looking to start an online business, with or without a product of their own

There is the option to become an affiliate for the course, but it is not pushed upon.

Includes a supportive Facebook Community

Includes "the Blueprints" the infamous $7 course charges $2,500 for.

There is an additional charge for buying a domain/website. I used Hostinger website builder, which was $35 per year

At the completion of the course, I built a website, business email, set up and scheduled an entire sales funnel with email campaign and thank you page. I created and linked my landing page. I set up an Instagram account and got tips and tricks how to do it right. And so much more...

I decide to become an affiliate for the course, and within three weeks, and a LOT of hard work, I have earned over $1,200.
If you hope to make AUTOMATED affiliate sales in as little as a month, this course is kind, authentic, and offers it all...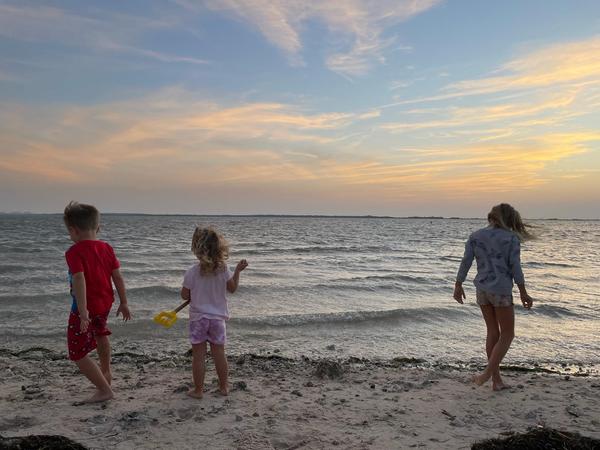 Follow your inner compass. Invest in you. Invest in your family.
Learn how to navigate this online marketing thing the right way.